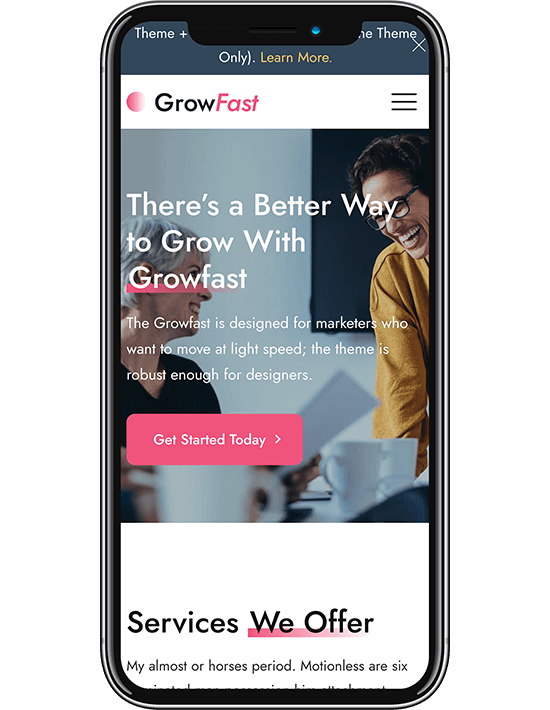 GrowFast Theme.
Mobile Optimized.
FREE Forever.
Start to install the GrowFast Free theme.
All Features, Start 30-day Paid Version Trial!
GrowFast Free HubSpot theme is a revolutionary new HubSpot theme concept in 2021. The theme has limitless possibilities for building websites and web pages with child themes.
GrowFast is an ongoing project; you will still love it years in 2025! GrowFast's mission is to help you stay on trend with regular updates, allowing you to focus on what matters, including your company's growth.
Why the GrowFast is the #1
Buy HubSpot CMS Starter Plan

Prepare a brief template or documentation

Build a website with CMS Hub

Launch a website in 2 weeks
We analyze all the website pages

We will build your new HubSpot website

Provide feedback for revisions

We will add & point domain to the HubSpot

Your website will now be live in 2 week
Your Top

3 Questions

, Answered
1) What will my new HubSpot website look like?
I will build your new HubSpot website with the available GrowFast modules and templates. Your new website will have your previous content, including your copy, images, and videos. At your request, I can update your images and video with stock content.
2) Will you migrate my entire website?
It depends on the size of your website. The Free Migration package has a page limit of 15 pages or blog posts. Additional pages will require an additional investment. If you have a very large website, I recommend going with the Custom Migration package.
3) How much will the entire process cost?
You'll pay only $989 (EU VAT included) for the GrowFast HubSpot theme. You'll pay no additional fees for the Free Migration package.