Limitless Theme, Templates & More.
Build The HubSpot Website You Want.
Ready to start? Enter your email to download the latest theme version.
Truly Optimized for Mobile
GrowFast is a fully responsive HubSpot theme and works perfectly on all screen sizes and mobile devices.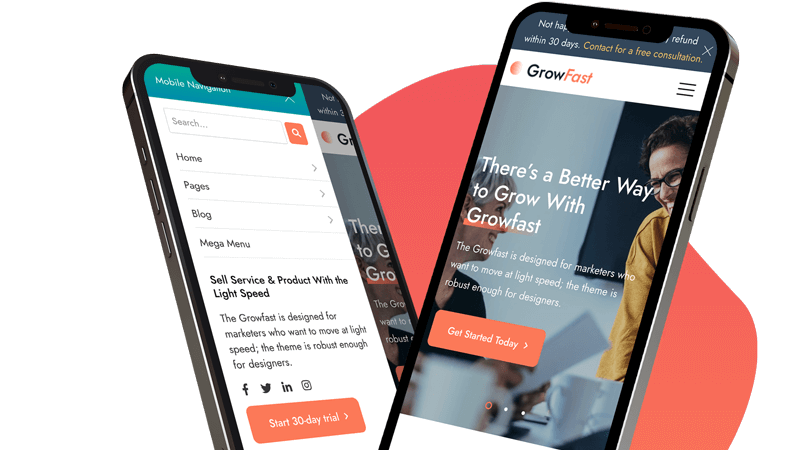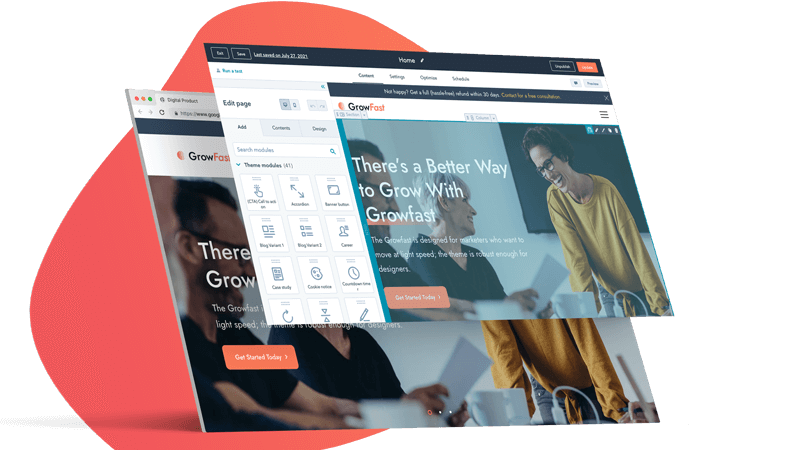 No Coding Skills Required
Is the theme easy to customize? Yes! It's very easy. All our templates are made to use the power of HubSpot's CMS.
Flexible & Powerful Modules
Build a website with ease. Flexibility is GrowFast's core principle.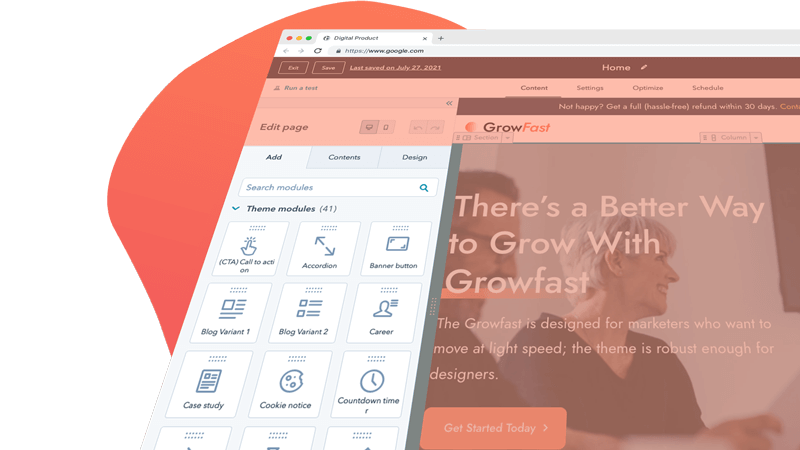 Frequently Asked Questions
FREE Unlimited Email and Chat Support
That's right, folks. I'm offering you free lifetime support for all issues regarding the theme itself.
Please note that assistance with any third-party features or functionalities that don't come with the theme is excluded from the free support. However, I do offer custom HubSpot development services for an hourly fee if you need additional help with your third-party components.
Two FREE Hours of Customization Service
You can use these hours for anything you'd like. For example, if you would like to change a module or add a unique feature, I will help you with that. I am also pleased to help you with any additional customizations you may need after you've used up the two free hours for an hourly fee.
FREE Migration to HubSpot Website
After you purchase the theme, I will migrate your website free of charge. I will help you launch a winning HubSpot site in just two (2) weeks.
Whether you plan to migrate a non-HubSpot site to HubSpot or relaunch an outdated or underperforming HubSpot website, you will get a refreshed look and superior quality from the GrowFast theme.
I will take your non-HubSpot website and migrate all pages and blog posts, including all their content, to HubSpot.
A 30-Day REFUND Guarantee
I offer a 100% satisfaction guarantee. Not happy with the theme? Get a full hassle-free refund within 30 days.
Whether you are an experienced agency, a private company, or a sole proprietor, I want you to be 100% confident in your GrowFast theme purchase and eliminate any risk. If, for any reason, you feel that GrowFast doesn't meet your expectations or needs, you can request a refund within 30 days.
Ready to start? Enter your email to download the latest theme version.